Blog
We look down the list of things we get excited about, and the word "concrete" isn't usually on it. That is, unless you're a winemaker.

Wander through our winery and you may catch a glimpse of a large grey egg or an Eiffel-shaped concrete vessel – rather industrial looking structures, sitting pretty in a sea of traditional open fermenters and barrels. Concrete may seem like the last place we'd want to put our grapes. So, why do we use it?

The secret is in both the conical shape and porous nature of the material. The 'oval' shape of these concrete vessels holds the grape skins down lower when they're fermenting, so less pumping is needed to extract the tannin. It's a gentler process, that leads to a softer texture in the wine. Add to that, the tiny holes in concrete allow oxygen into the juice without imparting any oak flavour or tannin, so the aromatics and fruit purity in the resulting wine really shine.

This year, Travis, Jimmy and our winemaking team had enough fruit yield from our V9 Cabernet block for a little experiment. They fermented some of the grapes in a concrete Eiffel and some in stainless steel open fermenters. All other factors in the process were the same – same fruit, same day, same additions, same barrel-ageing.

"Whilst both the resulting wines were of very high quality, what we discovered was the wine in concrete had a softer texture and incredible vibrancy – it really jumped out of the glass and was a more complete wine earlier in the process. We realised just how impactful oxygenation is in the fermentation stage, not just when the wine is ageing" says Jimmy.

This opportunity for innovation has not only provided new insight but has big implications for Voyager's mission to create a sustainable legacy. Oak barrels serve their intended purpose (imparting flavour and texture into the wine) for a limited time before they are retired. By comparison, a concrete egg or Eiffel will probably outlive us all, offering way more mileage!

A solution that allows us to reduce our reliance on a finite natural resource and move to a more sustainable material is very significant, as we look to reduce our carbon footprint. This important work is continuing, as we introduce more concrete vessels into the winery, and the team experiment further with the material to create exciting and nuanced Voyager wines.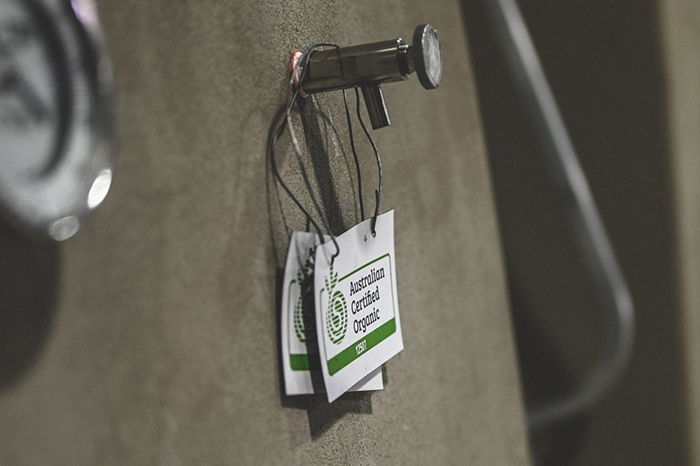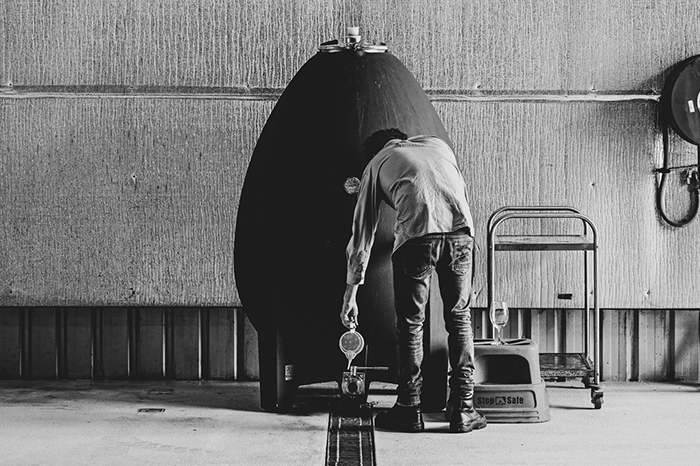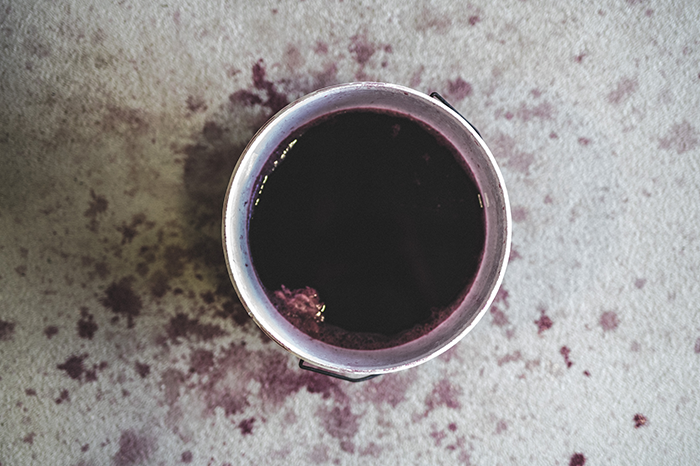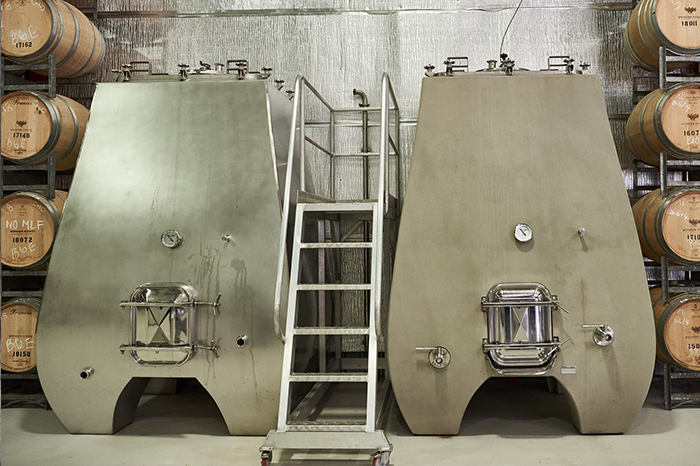 Recently the Voyager team joined a 60 strong group of local volunteers for the Margaret River Wine Industry Community Revegetation Day.

Organised by the Margaret River Wine Association (MRWA), a cohort of green thumbs from our wonderful region gathered to help restore and protect the flora of the Margaret River river mouth. Even with the threat of a potential 25mm downpour, the opportunity to get out of the winery or office, and spend a morning down at the beautiful river mouth enjoying Combi Coffee and a sausage sizzle donated by IGA proved to be too good to pass up.

After a Welcome to Country by Wadandi cultural custodian, Zac Webb, a briefing followed from Nature Conservation General Manager, Drew McKenzie. Once everyone was advised of what was to be achieved, they were off!

The volunteers began by focussing on the degraded areas at the river mouth and around the carpark with weed removal and planting to assist with dune stabilisation. Thankfully, the 'weather gods' were kind and waited for the last pig face to be planted and the final sausage to be consumed, before the heavens opened up and watered in all that had been planted! MRWA CEO, Amanda Whiteland, finished the day by saying "Given it is our wine region's namesake, and Margaret River (Wooditjup Bilya) has significant cultural, marine and biodiversity values, it made sense to do something that connected to the River." We couldn't agree more.

We are proud to say that this initiative was made possible partly through the MRWA's application to the Voyager Estate Community Grants program, which went towards tube stock and materials for the day.

The event created great community pride and team building across the wine industry for our world-renowned namesake. A big thank you to MRWA and Nature Conservation Margaret River for organising such a fantastic initiative, that is helping to preserve our incredible coastal home for generations to come!
In the hustle of daily life, it's easy to sink into comfortable drinking habits. When it's warm outside, you drink rosé. When it's chilly, you open a bottle of rich, mouth coating Cabernet. But we'll let you in on a little secret…rosé is great any time of year because of its brilliant versatility with food. At Voyager Estate, our rosés are crafted with fresh elegance and savoury complexity – the ultimate pairing with the heartier dishes we love to eat in the cooler months.
We asked our Sommelier, Claire Tonon, to share why rosé shouldn't be relegated to the realm of summer fun, and why it deserves a place on your dinner party table this winter…
What makes rosé great winter drinking?
"Rosé is generally light, fresh, and unoaked yet with a softer overall flavour profile than most classic summer wines (think citrusy, herbal Sauvignon Blanc!). It's effectively red wine without all the red wine structure and weight, so it makes an excellent starter or first course wine for a winter dinner party. The berry notes and earthy savouriness of the Voyager Estate rosés are perfect with the warm richness of winter foods. They have great natural acidity too, a good balance for the rich, creamy sauces we all love when it's cold outside!"
What's special about the way we craft it at Voyager Estate?
"Crafting our Project Sparkling Rosé is a gentle, delicate process; every step revolves around retaining the elegant, fresh fruit notes of our organically certified Merlot and Shiraz. Early harvesting allows us to gently press out light-coloured juice with bright, fresh blood orange and red berry notes yet without any bitterness from the skins.
The Voyager Estate Rosé is a different story – instead, our team focus on developing texture and complexity. We use select parcels and various varieties to achieve this, Tempranillo for lively raspberry and delicate spice notes, Shiraz for floral aromatics and summer berries, and Merlot for a light strawberry lift. A small portion of co-fermented Viognier offers textural complexity. The result is a dry style with lifted floral aromas and a soft, textural palate with nice savoury elements."
Your favourite flavour pairings…
"Light seafood like octopus or prawns, served either warm or cool, or with cured red meats, tartare, or carpaccio. It's equally great with a creamy risotto or pasta. A couple of my favourite quick and easy dishes to make at home (whilst drinking a glass of rosé!) are Beetroot and Gorgonzola Risotto or Salmon, Cherry Tomato, Rocket, and Caper Pasta."
Pop the bottle straight from the fridge…or is there another way to serve rosé during the cooler months?
"When pairing the Voyager Estate Rosé with warm dishes, I recommend serving it at around 12-14 degrees (perfect oaked Chardonnay temperature) so there's less temperature contrast between food and wine. That way, you'll be highlighting fruit and the wine's interesting savoury notes, rather than the bright acidity."
Can we expect a rosé-inspired pairing on the upcoming SOLI Menu this July?
"Absolutely! We're still in the development phase, so I can't reveal too much…but our chefs are currently curing and seasoning some amazing local venison as the inspiration for our 2021 Project Sparkling Rosé pairing. As I've already mentioned, we'll be serving this dish early in the menu, keeping it light with just enough creaminess to balance the bright acidity of the wine…it's going to be pretty special."
We are thrilled to announce the appointment of Tim Shand as our new Chief Winemaker. Following in the footsteps of Steve James, Tim will lead both the Winemaking and Viticulture Teams at a seminal moment in Voyager Estate's 44-year history. Tim's role will be pivotal as we continue to develop our hand-in-glove ambitions of achieving progressive environmental aspirations and taking our winemaking craft to the next level.
Originally a Perth native, Tim got his start in the Clare Valley, followed by international stints in iconic winemaking regions Chianti, Bordeaux, Oregon, and Burgundy, including Château Margaux and Domaine Dujac in France, before returning home to take up residence in 2011 at Giant Steps in the Yarra Valley, under Head Winemaker, Steve Flamsteed. Tim has been fortunate to work alongside inspiring people along the way, winemakers with substantial knowledge and always with a healthy dose of flair and innovative spirit. Since 2014, Tim has headed up a dynamic and progressive team of winemakers as Head of Winemaking at award-winning Punt Road.
Inspired by the ability to create and experiment, Tim believes winemaking is closer to a craft than an art – in the best possible way. Respect for the raw materials is everything, finding the beauty and deliciousness in the fruit that is grown and expressing them to the drinkers with the lightest possible touch. With a commitment to harmony and balance in wine, Tim will continue Voyager Estate's legacy of producing world-class Chardonnay and Cabernet.
"The name Voyager Estate evokes a deep and enthusiastic response in wine lovers everywhere. They have a proven history of growing outstanding wines in a world class region. From afar I have admired Voyager's visionary approach to genuine sustainability in viticulture and winemaking, as well as their enviable location in the heart of the Stevens Valley," says Tim. "Joining Alex and her knowledgeable team as Chief Winemaker at this point in the winery's evolution is a once in a lifetime opportunity for me, and I cannot wait to get started."
Voyager Estate owner, Alexandra Burt, acknowledges the work of the winemaking and viticulture team over more than four decades in building a legacy of outstanding quality, sustainably-produced wines of place, and looks forward to building upon this foundation with the appointment of Tim.
Alex says, "We have deliberately taken our time to find the right person to lead Voyager Estate's winemaking and viticulture into the next era. Of the many stand-out qualities that Tim brings with him, perhaps the most significant are his depth of thought and curiosity – about all things – along with his generosity and humility. He also brings a very considered ambition for the wines and those who know him well know that he is always looking far over the horizon when setting a vision. Tim has risen to the top of a remarkable field of candidates and adding him to our already accomplished team is beyond exciting."
"I would also like to take this opportunity to acknowledge and thank our current production team, led by Travis Lemm and Glen Ryan, who have taken the reins in the interim and smoothly navigated the 2022 vintage which, to their credit, is already promising some exceptionally compelling wines."
We look forward to welcoming Tim to the team in August.
The Modern Cabernet is the perfect warming companion for chilly days – bold yet soft, complex yet utterly drinkable, equally delicious with grilled meats and dark chocolate.
We asked four of Voyager's most passionate Cabernet-lovers – Sommelier, Claire Tonon; Wine Educator, Tom Kline; and our Winemaking duo Travis Lemm and Jimmy Penton – to share their thoughts on why The Modern is the ultimate addition your table or cellar this winter...
Why should we get excited about The Modern?
Travis: "It's lovely to drink as a younger wine, but still has depth of tannin to age gracefully. Fresh and bright with flair."
Jimmy: "It's made with the highest quality Margaret River Cabernet in a fresher, fruit-driven style, expressing a purity of place and super elegant tannins. It's sexy Cabernet."
Tom: "The Modern strikes a beautiful balance between complexity and drinkability."
What puts the "modern" in this style of Cabernet?
Travis: "The Modern sits outside the conventions of most Margaret River Cabernets. It shows what can be done with Cabernet when it's treated with freshness in mind. It's a window into the future of Voyager Estate and the wider region."
Jimmy: "For me, it really comes down to the philosophy behind the winemaking. We're experimenting to express the perfume, elegance, and purity of Cabernet through sustainable decisions in the vineyard and the winery."
Claire: "Traditionally, Margaret River Cabernet has a bit of a reputation for being somewhat unapproachable, particularly in its early years. Our team has created a Cabernet that's scrumptious right now, yet still has the structure to age, and doesn't cost the earth either! Win, win!"
Tom: "The unexpected twists and turns! It's modern in the winemaking approach – different Cabernet clones and use of concrete to bring a unique palate shape and texture."
Describe the drinking experience in a few words…
Travis: "Perfumed red berries and florals, fine gravelly tannins and sweet fruit through the mid-palate."
Jimmy: "Crushed red berries, violets, and a hint of nori. Pure, full, mouthcoating fruit leads through to earthy, chocolate flavours and a refreshingly complex umami cherry finish."
Claire: "An alluring array of juicy dark berry fruit jumps out of the glass. There's more than just fruit though, it has pretty floral aromas, delicate oak-derived spices and notes of Mediterranean herbs."
Tom: "The nose is all tilled earth, pine needle, red florals, and spice. The palate is soft but intense, showing earth and spice with velvety, fine tannins and long length."
What is your favourite way to drink The Modern?
Travis: "In a glass! I prefer to give the wine a decant, then will happily sip away whilst cooking a meal for the evening. Hopefully there's still some remaining when the dish hits the table!"
Jimmy: "Around the backyard firepit with friends, grilling quality meats."
Claire: "It drinks well with pasta dishes and risotto (one glass for me, one for the pot!) through to red meat dishes and even winter veggies. One of the best things about The Modern is its ability to hold over a few days, so if (by some miracle) do you don't finish the bottle on the first night, it's generally even better the next!"
What is your ultimate dish or flavour pairing?
Tom: "The Modern really comes alive when paired with dishes that complement its earthy notes. Think fillet steak with mushroom sauce, truffle-based pasta, or slow cooked lamb shoulder with root vegetables."
Jimmy: "The Modern Cabernet and dark chocolate is hard to go past!"
Claire: "Classic Italian roast beef and salt baked potatoes. I might sound like a broken record, but this is my favourite ever pairing for this wine – the herb crust that the beef is cooked with is reminiscent of the delicate herbal notes in the wine."
Head on over to our online shop to add The Modern to your collection this winter...
In celebration of International Drink Chenin Day on 17th June, we're shining a light on the world's most versatile grape, and one that has been a part of our story since the beginning…
Chenin Blanc is having a moment. Across the country, adventurous winemakers from the Swan Valley to Margaret River and beyond are pushing the boundaries, elevating the grape to new heights with exciting expressions popping up on every wine list.
Originally hailing from the Loire Valley in France, Chenin Blanc is infamous for making wines up and down the scale, from crisp sparkling styles to lusciously sweet dessert wines.
Voyager Estate Winemaker, Travis Lemm, suggests that the allure is in its ability to express the terroir of where it's grown more than any other grape variety.
"It's a bit of a chameleon really – very reflective of the season, the climate, and the soil type of where it's grown. It loves the cool of the Loire but does equally well here in Margaret River where the seasons are consistently warm. The adaptability of the variety means the possibilities for experimentation are endless."
At Voyager, we are proud to say that Chenin Blanc isn't a new proposition – it is firmly part of our DNA, with heritage vines on our Estate dating back to original 1978 plantings. Our fascination began with an easy-drinking fruit-driven style, which has evolved into a wine with more palate definition and savoury tones. The introduction of barrel fermentation to select parcels adds layers of complexity and builds a platform around the amazing natural acidity of the variety.
With each passing season, our team have tapped into the grape's versality more and more, exploring different clones and sites to craft expressive wines that reflect the nuances of our coastal home.
Over time, they realised our organically farmed Weightmans Block 1 vineyard produced Chenin Blanc fruit with stunning purity and freshness – perfect for making a sparkling aperitif style.
"We set out to craft a new wine that was distinctly Western Australian and suited our sunny climate and lifestyle, and I think we've proven what can be achieved when judicious work is done in the vineyard and the right sites are expressed. It's a truly delicious, great value sparkling that continues to be refined each year of its journey" Travis continued.
Our 2021 Sparkling Chenin Blanc displays light citrus and fresh green apple, with elegance and complexity from time spent on lees – a new release with plenty of mojo that pairs beautifully with Western Australia's incredible local seafood.
As vintage wraps up for another year and the team look ahead to what's next, Travis says the journey of exploration will continue withthe first organically farmed crops coming into the winery from our newly established plantings of the 'Noack' clone.
"We have sourced our cuttings from the Swan Valley and are super excited by the loose bunch formation and spectrum of fruit this particular clone produces. The aim is to craft a new wine – the Project U9 Chenin – which will be handpicked and whole bunch pressed, with fermentation taking place in old oak. It will be a more serious, structured look at the variety and will take Chenin Blanc at our Estate to the next level in the coming years – watch this space."
As we welcome the cool change of early winter, the Vineyard Team has returned from their post-harvest rest and are ready to get back into the field – mulching, seeding, and pruning.
The Winery is also a hive of activity as Travis and the crew bottle the early drinking wines ready for release in a few short months. They are also carefully watching over the reds, which are happily bedded down in barrel, quietly maturing.
At this time of year, when the vineyard appears dormant, the invisible root systems go through a period of renewal, harnessing the energy stored in the vines.
Our new RADIX Menu embraces a 'return to one's roots', each dish inspired by our organically farmed wines, weaving culinary tradition with a modern edge – telling the story of our ancient soils and seasons past, whilst nodding to regeneration for the future.
Succulent crab from Shark Bay, local octopus from Fremantle, pasture-raised Manjimup chicken and Jerusalem artichokes from the Voyager Garden are just a few of the pristine local ingredients featured alongside a selection of our current releases, including a little something special from the Museum Cellar...
Stay tuned to the Voyager Instagram for more menu highlights over the coming weeks.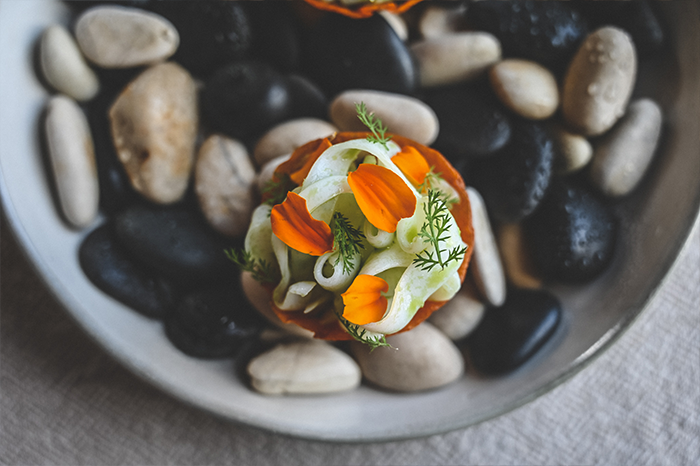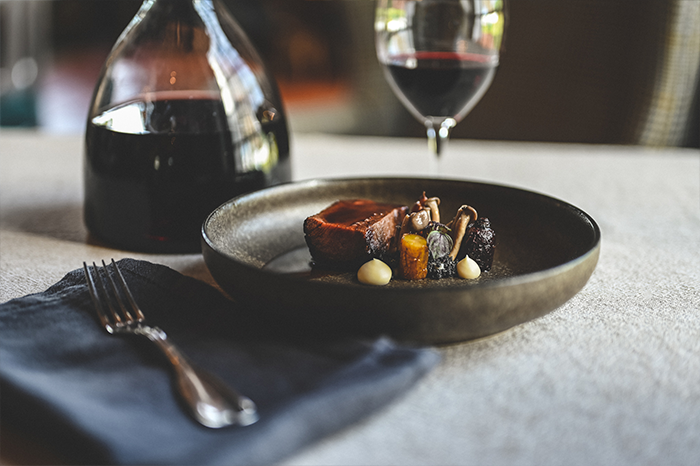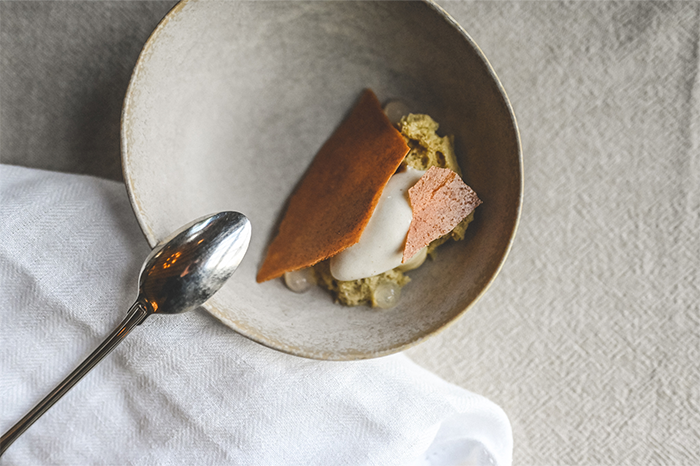 There's no doubt about it, Merlot's image has suffered over the years. Unfairly dismissed by Hollywood, the grape variety has had to claw back its popularity, working overtime alongside the likes of Shiraz to win back the palates of sommeliers and wine lovers the world over.
The presence of Merlot plantings in Australia has been recorded as early as 1923, but the story really begins in 1965. Instead of coming from Bordeaux – Merlot's traditional heartland – our first major plantings were sourced from the small college town of UC Davis in California. The infamous D3V14 became the most widely planted (and controversial) Merlot clone in Australia.
The wine boom of the 1990s saw an explosion in Merlot production. Many Australian winemakers experimented with the variety, with varying degrees of success. A small number devoted their careers to fine-tuning the variety, crafting stunning expressions, whilst others fell victim to selecting the wrong site and soils, producing Merlot that was green and lean. Slowly but surely, wine drinkers began to perceive Merlot as boring and poorly made.
Thankfully, a new wave of winemakers are shining a light on this misunderstood grape, and we are proud to share this passion for Merlot at Voyager Estate.
Our curiosity with Merlot began years ago with the discovery of the perfect site on our Estate – Weightmans Block 10. Merlot loves free-draining soils, so when early soil profiling revealed gravel loam with underlying stone and clay, the team knew that they had a great location grow and nurture Merlot vines. Discussions started around importing and propagating the best clone for the site, with vines eventually planted in 2013.
"Instead of dismissing the variety, we doubled down with a new Italian clone called Q45-14, used by some of the famous producers in Tuscany. We saw it as an opportunity to craft Merlot the way it should be – brooding, complex and finely woven with loads of personality" – Travis Lemm, Winemaker.
Fast forward to today and we're releasing the first certified organic version our Project W10 Merlot – a small batch wine which embodies a spirit of innovation and a deep connection to our coastal home.
This year's release reflects the character of the vineyard and nuances of the season more than ever before, bursting with dark plum, cherry, lifted florals and earthy cedar, complemented by an elegant acid backbone and fine, layered tannins.
The future for Merlot in Australia is bright, as vineyard sites mature and winemakers seek to understand this variety more with each passing year. At Voyager, we're excited to continue challenging the status quo, unravelling the mystery of this grape and demonstrating its true potential in Margaret River.
Source: Wine Australia
Vintage 2022 has wrapped – here's a few thoughts from our Winemaker and Winery Manager, Travis Lemm, on the season's bounty…
"Overall a really interesting vintage, which began later than usual. There was no down time between picking the whites and reds this year, which had the whole harvest team holding onto their hats and putting in some serious hard yards to set the pace.
The first harvest commenced on 17th February and was delayed by a couple of weeks as compared with last vintage. We kicked off with the pick of the fruit for our Coastal Chardonnay, from the western side of V10. Thanks to our organic farming practices, this is the best this block has looked in years and although yields were low, the quality is excellent.
Our B11, B6 and B5 blocks followed, with some incredible flavour intensity showing in the grapes leading up to harvest. Flinty lemon meringue, grapefruit and powdery fluffy tannins abound, giving the team lots to be excited about. There was a bit of 'duck and weave' as we decided which parcels to bring in first. We picked B5 earlier than normal to keep sugar levels balanced. A few (much-needed) cooler autumn evenings eased pressure on ripening, keeping the chardonnay vines happy.
By 3rd March, autumn had well and truly arrived, with heavy dew and black, overcast clouds descending on the Estate. We also had some rain, about 2mm, but any concerns about botrytis (mould) were quickly blown away by the clear, bright sunshine over the next eight days. It might have been a different story had we not been right on the point of harvest for the remaining whites.
The chardonnay harvest was complete and happily fermenting away in the winery by 6th March, with the fruit looking vibrant and incredibly powerful with great acidity across the board. A selective "California Sun-kissed" hand-pick of Broadvale Block 6 looks particularly exciting and reminds me a lot of Bonneau's wines from Burgundy. Elegance, purity and refined acidity with burnt lime notes.
The Sparkling Chenin Blanc fruit from Weightmans Block 1 is also looking fantastic, very tight with flavours in the zesty lime spectrum. We used the floatation method to clarify the juice for the first time (to minimise our energy output), which worked well and there was no phenolic pick-up which was great.
Our change in direction for the Voyager Estate Chenin Blanc to a more serious, savoury style, suited this year's vintage conditions very well – we pushed through a 30% barrel ferment on one core block and have created a very exciting wine with purity and length…watch this space.
The real 'dark horse' of the season though is our block of Tempranillo – this is looking amazing, and should make a stellar (and super delicious) 2022 Rosé. The Semillon coming off Ullingers 10 is also exciting – quality and yield are both too good to ignore – there's definitely an exciting Project wine on the cards for this special parcel…
Although threatened by the autumn rain, the Shiraz quality is shining this year, and we're looking forward to showcasing that cool climate style Margaret River is famous for. Cabernet also stands to be exceptional this year. Although yields were lower than we would've liked, it's great to see some elegant tannins reeling in the plushness of the fruit weight very well.
In fact, I would class the season in reference to Cabernet and Chardonnay as being one of the greatest highlights in my 17 years of winemaking – the quality is just outstanding. A special thanks has to go out to this year's Vintage Team – some new, some returning (and some a part of the furniture!). With COVID all around us this year, it was a race to get to the finish line and keep the pace with the demands of harvest whilst avoiding shutdowns, but they did an incredible job and I have to say the positive vibe across the team was really inspiring."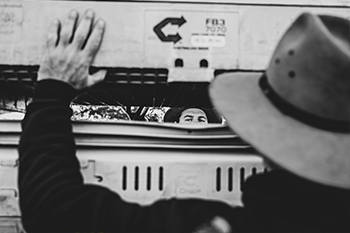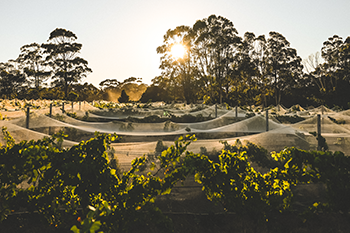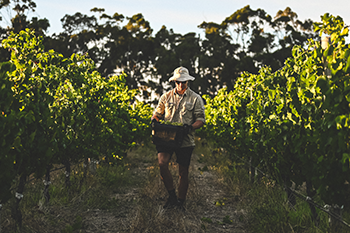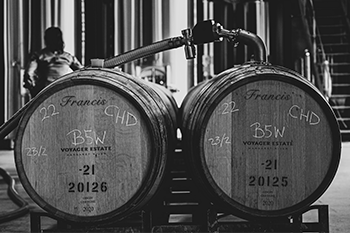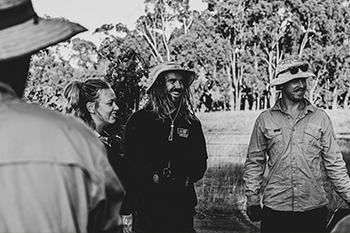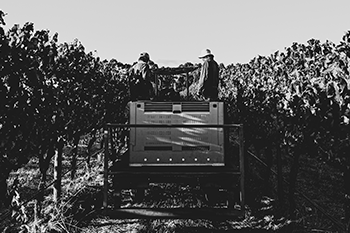 At Voyager Estate, our mission couldn't be simpler – to shine a light on what makes our patch of land in Margaret River so special.
That is why we're proud to be featured in Drive Your Story – a new collection of self-drive trails celebrating the rich tapestry of culinary and cultural experiences our unique coastal home has to offer.
Each curated route has been designed to make the most of your trip to the South West, encouraging you to get a little side-tracked as you find new favourites, slow down for a swim or stop into a hidden gem – returning home with a new story that's all your own.
Begin your journey of discovery with the Margaret River Surf and Source Trail and follow the fresh waters of The Margaret River or Wooditjup Bilya, as they flow through land, forest and out to sea, sharing life and vitality with all who experience it along the way.
This unique drive features pristine beaches and culinary delights from many of our regional friends, but you'll also encounter the majestic surrounds of our Estate, where you'll enjoy a warm welcome and an immersive exploration of our craft and terroir. Drop in and sample our organically farmed wines of place, experience lunch in our award-winning Restaurant, or sit back and relax with a glass of wine and a cheeseboard in the Wine Room.
Discover the Drive Your Story trails and plan your next Margaret River adventure here.