Blog
In celebration of International Drink Chenin Day on 17th June, we're shining a light on the world's most versatile grape, and one that has been a part of our story since the beginning…
Chenin Blanc is having a moment. Across the country, adventurous winemakers from the Swan Valley to Margaret River and beyond are pushing the boundaries, elevating the grape to new heights with exciting expressions popping up on every wine list.
Originally hailing from the Loire Valley in France, Chenin Blanc is infamous for making wines up and down the scale, from crisp sparkling styles to lusciously sweet dessert wines.
Voyager Estate Winemaker, Travis Lemm, suggests that the allure is in its ability to express the terroir of where it's grown more than any other grape variety.
"It's a bit of a chameleon really – very reflective of the season, the climate, and the soil type of where it's grown. It loves the cool of the Loire but does equally well here in Margaret River where the seasons are consistently warm. The adaptability of the variety means the possibilities for experimentation are endless."
At Voyager, we are proud to say that Chenin Blanc isn't a new proposition – it is firmly part of our DNA, with heritage vines on our Estate dating back to original 1978 plantings. Our fascination began with an easy-drinking fruit-driven style, which has evolved into a wine with more palate definition and savoury tones. The introduction of barrel fermentation to select parcels adds layers of complexity and builds a platform around the amazing natural acidity of the variety.
With each passing season, our team have tapped into the grape's versality more and more, exploring different clones and sites to craft expressive wines that reflect the nuances of our coastal home.
Over time, they realised our organically farmed Weightmans Block 1 vineyard produced Chenin Blanc fruit with stunning purity and freshness – perfect for making a sparkling aperitif style.
"We set out to craft a new wine that was distinctly Western Australian and suited our sunny climate and lifestyle, and I think we've proven what can be achieved when judicious work is done in the vineyard and the right sites are expressed. It's a truly delicious, great value sparkling that continues to be refined each year of its journey" Travis continued.
Our 2021 Sparkling Chenin Blanc displays light citrus and fresh green apple, with elegance and complexity from time spent on lees – a new release with plenty of mojo that pairs beautifully with Western Australia's incredible local seafood.
As vintage wraps up for another year and the team look ahead to what's next, Travis says the journey of exploration will continue withthe first organically farmed crops coming into the winery from our newly established plantings of the 'Noack' clone.
"We have sourced our cuttings from the Swan Valley and are super excited by the loose bunch formation and spectrum of fruit this particular clone produces. The aim is to craft a new wine – the Project U9 Chenin – which will be handpicked and whole bunch pressed, with fermentation taking place in old oak. It will be a more serious, structured look at the variety and will take Chenin Blanc at our Estate to the next level in the coming years – watch this space."
As we welcome the cool change of early winter, the Vineyard Team has returned from their post-harvest rest and are ready to get back into the field – mulching, seeding, and pruning.
The Winery is also a hive of activity as Travis and the crew bottle the early drinking wines ready for release in a few short months. They are also carefully watching over the reds, which are happily bedded down in barrel, quietly maturing.
At this time of year, when the vineyard appears dormant, the invisible root systems go through a period of renewal, harnessing the energy stored in the vines.
Our new RADIX Menu embraces a 'return to one's roots', each dish inspired by our organically farmed wines, weaving culinary tradition with a modern edge – telling the story of our ancient soils and seasons past, whilst nodding to regeneration for the future.
Succulent crab from Shark Bay, local octopus from Fremantle, pasture-raised Manjimup chicken and Jerusalem artichokes from the Voyager Garden are just a few of the pristine local ingredients featured alongside a selection of our current releases, including a little something special from the Museum Cellar...
Stay tuned to the Voyager Instagram for more menu highlights over the coming weeks.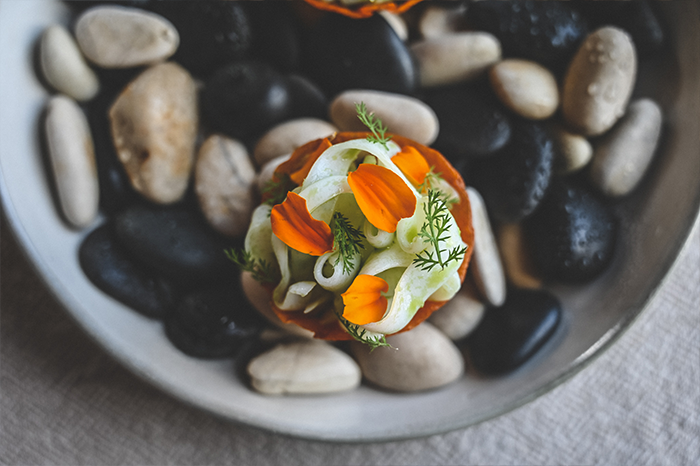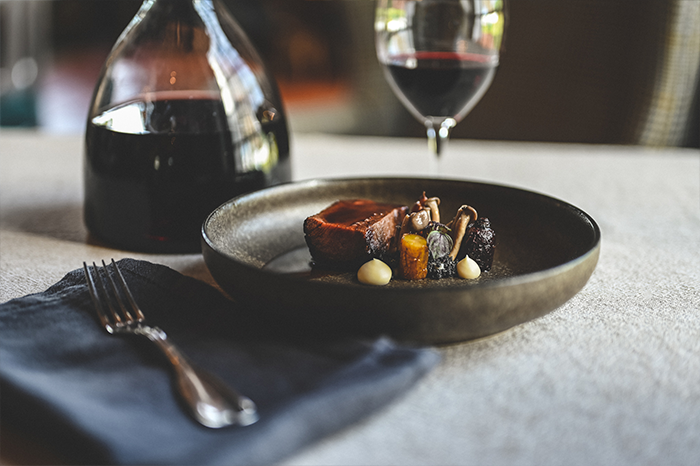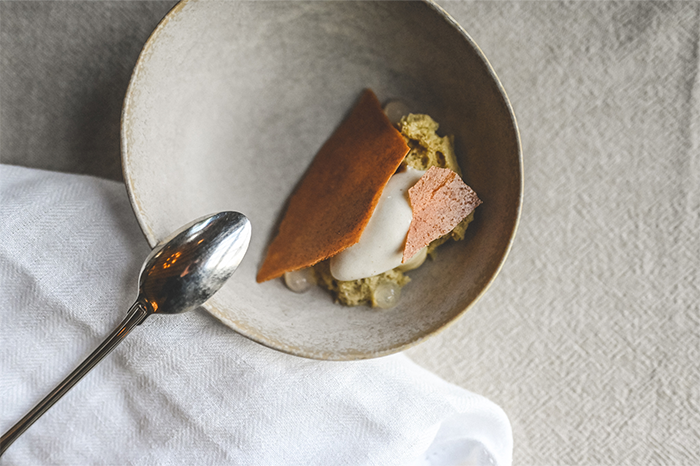 There's no doubt about it, Merlot's image has suffered over the years. Unfairly dismissed by Hollywood, the grape variety has had to claw back its popularity, working overtime alongside the likes of Shiraz to win back the palates of sommeliers and wine lovers the world over.
The presence of Merlot plantings in Australia has been recorded as early as 1923, but the story really begins in 1965. Instead of coming from Bordeaux – Merlot's traditional heartland – our first major plantings were sourced from the small college town of UC Davis in California. The infamous D3V14 became the most widely planted (and controversial) Merlot clone in Australia.
The wine boom of the 1990s saw an explosion in Merlot production. Many Australian winemakers experimented with the variety, with varying degrees of success. A small number devoted their careers to fine-tuning the variety, crafting stunning expressions, whilst others fell victim to selecting the wrong site and soils, producing Merlot that was green and lean. Slowly but surely, wine drinkers began to perceive Merlot as boring and poorly made.
Thankfully, a new wave of winemakers are shining a light on this misunderstood grape, and we are proud to share this passion for Merlot at Voyager Estate.
Our curiosity with Merlot began years ago with the discovery of the perfect site on our Estate – Weightmans Block 10. Merlot loves free-draining soils, so when early soil profiling revealed gravel loam with underlying stone and clay, the team knew that they had a great location grow and nurture Merlot vines. Discussions started around importing and propagating the best clone for the site, with vines eventually planted in 2013.
"Instead of dismissing the variety, we doubled down with a new Italian clone called Q45-14, used by some of the famous producers in Tuscany. We saw it as an opportunity to craft Merlot the way it should be – brooding, complex and finely woven with loads of personality" – Travis Lemm, Winemaker.
Fast forward to today and we're releasing the first certified organic version our Project W10 Merlot – a small batch wine which embodies a spirit of innovation and a deep connection to our coastal home.
This year's release reflects the character of the vineyard and nuances of the season more than ever before, bursting with dark plum, cherry, lifted florals and earthy cedar, complemented by an elegant acid backbone and fine, layered tannins.
The future for Merlot in Australia is bright, as vineyard sites mature and winemakers seek to understand this variety more with each passing year. At Voyager, we're excited to continue challenging the status quo, unravelling the mystery of this grape and demonstrating its true potential in Margaret River.
Source: Wine Australia
Vintage 2022 has wrapped – here's a few thoughts from our Winemaker and Winery Manager, Travis Lemm, on the season's bounty…
"Overall a really interesting vintage, which began later than usual. There was no down time between picking the whites and reds this year, which had the whole harvest team holding onto their hats and putting in some serious hard yards to set the pace.
The first harvest commenced on 17th February and was delayed by a couple of weeks as compared with last vintage. We kicked off with the pick of the fruit for our Coastal Chardonnay, from the western side of V10. Thanks to our organic farming practices, this is the best this block has looked in years and although yields were low, the quality is excellent.
Our B11, B6 and B5 blocks followed, with some incredible flavour intensity showing in the grapes leading up to harvest. Flinty lemon meringue, grapefruit and powdery fluffy tannins abound, giving the team lots to be excited about. There was a bit of 'duck and weave' as we decided which parcels to bring in first. We picked B5 earlier than normal to keep sugar levels balanced. A few (much-needed) cooler autumn evenings eased pressure on ripening, keeping the chardonnay vines happy.
By 3rd March, autumn had well and truly arrived, with heavy dew and black, overcast clouds descending on the Estate. We also had some rain, about 2mm, but any concerns about botrytis (mould) were quickly blown away by the clear, bright sunshine over the next eight days. It might have been a different story had we not been right on the point of harvest for the remaining whites.
The chardonnay harvest was complete and happily fermenting away in the winery by 6th March, with the fruit looking vibrant and incredibly powerful with great acidity across the board. A selective "California Sun-kissed" hand-pick of Broadvale Block 6 looks particularly exciting and reminds me a lot of Bonneau's wines from Burgundy. Elegance, purity and refined acidity with burnt lime notes.
The Sparkling Chenin Blanc fruit from Weightmans Block 1 is also looking fantastic, very tight with flavours in the zesty lime spectrum. We used the floatation method to clarify the juice for the first time (to minimise our energy output), which worked well and there was no phenolic pick-up which was great.
Our change in direction for the Voyager Estate Chenin Blanc to a more serious, savoury style, suited this year's vintage conditions very well – we pushed through a 30% barrel ferment on one core block and have created a very exciting wine with purity and length…watch this space.
The real 'dark horse' of the season though is our block of Tempranillo – this is looking amazing, and should make a stellar (and super delicious) 2022 Rosé. The Semillon coming off Ullingers 10 is also exciting – quality and yield are both too good to ignore – there's definitely an exciting Project wine on the cards for this special parcel…
Although threatened by the autumn rain, the Shiraz quality is shining this year, and we're looking forward to showcasing that cool climate style Margaret River is famous for. Cabernet also stands to be exceptional this year. Although yields were lower than we would've liked, it's great to see some elegant tannins reeling in the plushness of the fruit weight very well.
In fact, I would class the season in reference to Cabernet and Chardonnay as being one of the greatest highlights in my 17 years of winemaking – the quality is just outstanding. A special thanks has to go out to this year's Vintage Team – some new, some returning (and some a part of the furniture!). With COVID all around us this year, it was a race to get to the finish line and keep the pace with the demands of harvest whilst avoiding shutdowns, but they did an incredible job and I have to say the positive vibe across the team was really inspiring."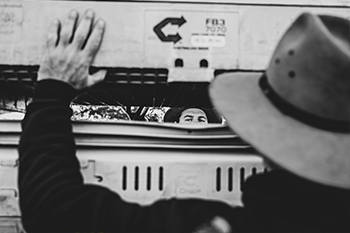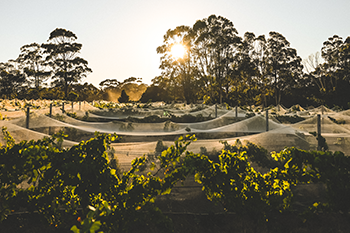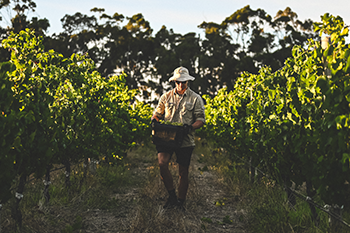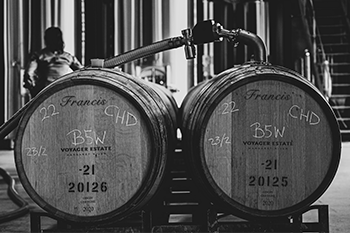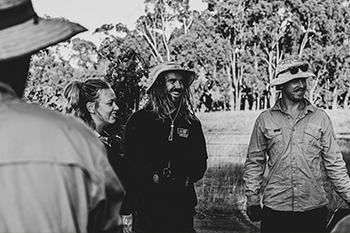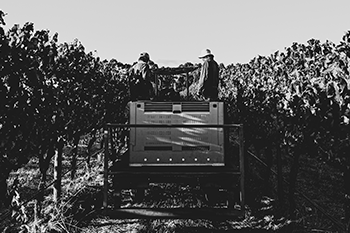 At Voyager Estate, our mission couldn't be simpler – to shine a light on what makes our patch of land in Margaret River so special.
That is why we're proud to be featured in Drive Your Story – a new collection of self-drive trails celebrating the rich tapestry of culinary and cultural experiences our unique coastal home has to offer.
Each curated route has been designed to make the most of your trip to the South West, encouraging you to get a little side-tracked as you find new favourites, slow down for a swim or stop into a hidden gem – returning home with a new story that's all your own.
Begin your journey of discovery with the Margaret River Surf and Source Trail and follow the fresh waters of The Margaret River or Wooditjup Bilya, as they flow through land, forest and out to sea, sharing life and vitality with all who experience it along the way.
This unique drive features pristine beaches and culinary delights from many of our regional friends, but you'll also encounter the majestic surrounds of our Estate, where you'll enjoy a warm welcome and an immersive exploration of our craft and terroir. Drop in and sample our organically farmed wines of place, experience lunch in our award-winning Restaurant, or sit back and relax with a glass of wine and a cheeseboard in the Wine Room.
Discover the Drive Your Story trails and plan your next Margaret River adventure here.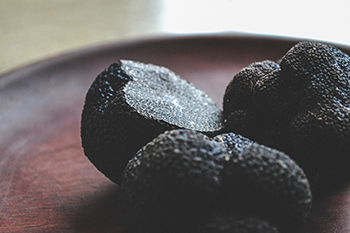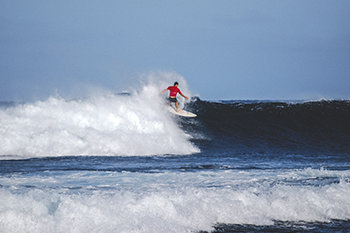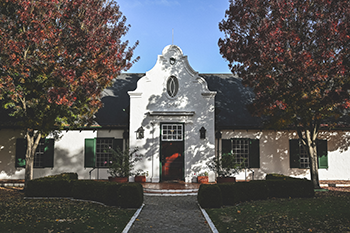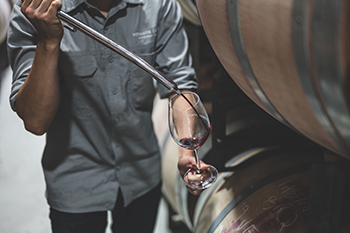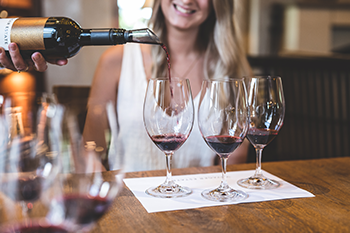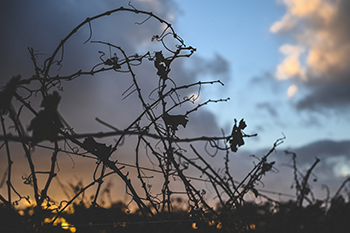 Today marks International Sauvignon Blanc Day – an opportunity to toast a world wine superstar, whose tropical charms have won grape-loving hearts the world over.
Originally from France, the grape is widely touted to have derived its name from the French word "sauvage" meaning "wild", as the vines are reminiscent of wild grapevines.
Mainstream expressions of Sauvignon Blanc are crisp and zesty, greeting the nose with a heady spectrum of exotic fruit and fresh green aromas, and for a while there seemed to be a dip in the love for this style. Its fruit-driven characters became a little predictable for some, and sommeliers across Australia begun to explore other 'serious' white wines to feature on their lists.
More recently however, bold winemakers around the world have been experimenting with different techniques – wild fermenting on skins, in barrel or clay amphorae – to produce new, exciting expressions of the variety. Sauvignon Blanc is an excellent candidate for this sort of creative exploration as no matter what you throw at it, it remains unmistakably varietal. Needless to say, the passion has been restored.
In the coastal haven of Margaret River, we have evolved a distinctly refreshing version of the famed style known as 'white Bordeaux' – combining Sauvignon Blanc with Semillon to create the locally revered 'SBS' or 'SSB'. With our Mediterranean climate sharing so many similarities with Bordeaux, it's no surprise this style caught on closer to home. These blends are delicious when drunk young, but also have big potential to age, developing flinty, smoky layers over time.
At Voyager Estate, we lovingly refer to the SBS as our 'comeback kid' – as lately, it's coming back into style with a vengeance, reinvigorated by judicious use of oak to add texture and complexity. It's a wine for all seasons – crisp, dry, and refreshing for a summer's day, but with enough weight and texture to stand up to cooler temperatures too. It also pairs supremely well with food, especially our incredible Western Australian seafood.
Our 2021 Sauvignon Blanc Semillon is the first certified organic release of this wine, and for us, embodies a true sense of place.
'This is the first release of a certified organic version of this classic Margaret River blend from Voyager. A lighter-bodied wine showing beautiful fruit purity. A portion of the semillon was fermented in new French oak, adding a textural palate feel and structure. Stacks of crunchy fruit, lifted with a keen crisp, lemon acid' – 93 points, Ray Jordan, The West Australian.
If this style has dropped off your radar, it might be time to dip your toe back in and experience the evolution…
We are thrilled to share that our new release 2020 Girt by Sea Cabernet Merlot has been awarded 94 points by Ray Jordan for prominent Australian drinks guide, Winepilot.com.
A near-perfect growing season, beautifully warm spring weather and one of the hottest Decembers on record all combined to produce a truly exceptional 2020 vintage for Voyager Estate.
'Mighty good wine for this price. In fact, it's better than that. Clearly the vintage has influenced it because it was a cracker in Margaret River. But the mature gravelly influenced vineyards of the Steven's Valley also contribute. Has a bright and lively red berry character supported by fine chalky tannins and a well-managed oak integration. Balanced and poised in its more medium bodied style, which is perfectly suited for drinking over the next few years. Strike up the barbie' – Ray Jordan, 94 points.
Our Girt by Sea range of wines pay homage to our Estate's organically farmed coastal vines and our prevailing maritime influence – the long warm summers with cooling afternoon sea breezes, allowing the grapes to reach optimal ripeness.
The 2020 Girt by Sea Cabernet Merlot is fresh, vibrant and approachable, perfect for a mid-week pour or to pair with Friday night pizza.
This past weekend, as grey skies loomed among bright bursts of sunshine, the last cabernet grape was plucked from the vines…signalling the end of vintage for another year.
With the reds reaching optimum ripeness and ready for picking, our dedicated Vineyard Crew charged to the finish line, gently hand-harvesting and transporting beautiful bunches of V9 Cabernet Sauvignon fruit back to the winery.
Our V9 vineyard, endearingly referred to as 'Old Block,' is often the last hand-pick of the season. These certified organic vines, planted in 1978, continue to produce some of the best fruit on our property, most of which is destined for the ultimate expression of Voyager Estate, our MJW Cabernet Sauvignon.
Just over a week prior, the first cabernet was picked from our younger U4 vines. Planted to Clone 337, the fruit displays fresh, bright, crunchy characters, perfect for our lighter nouveau style wines. This was promptly followed by our U12 'North Block' vineyard, planted to the classic Houghton Clone. This certified organic vineyard forms the backbone of our Voyager Estate Cabernet Sauvignon, our legacy in a glass.
With cabernet at the heart of our craft, we are incredibly excited about this year's yield – the intensity of character, excellent concentration, and balance in the fruit promises to express our special site in Stevens Valley more strongly with each passing season…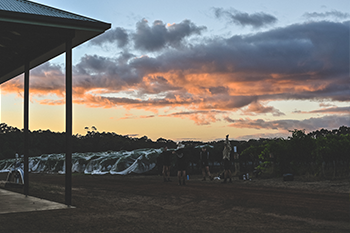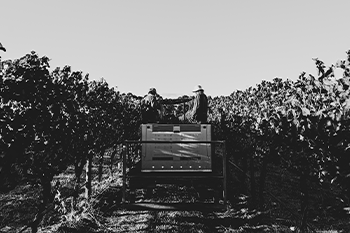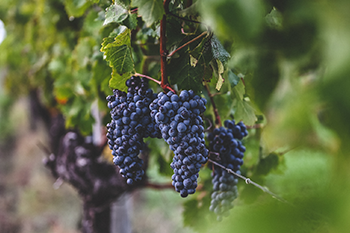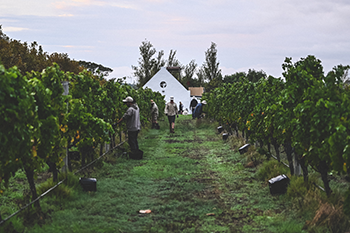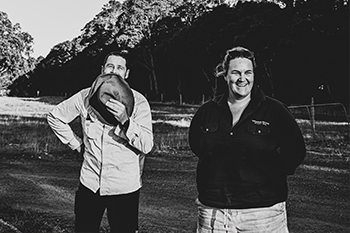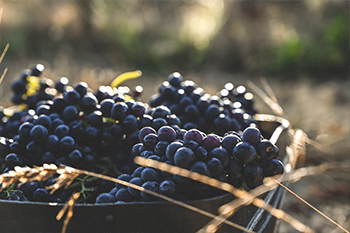 Recently we welcomed guests for the sold-out launch of FOLIUM – a celebration of the vineyard's interconnected lifecycle, and Head Chef Santi's last menu with Voyager Estate before he returns to his homeland of Spain.
As dusk fell over the Estate, so too did a sense of bittersweet anticipation. In his close-to-five years with us, Santi's fervour for sustainable local produce and crafting immersive degustation experiences inspired by our organically farmed wines, has taken our Restaurant to new heights. His contribution to Voyager and the Margaret River culinary scene has been immense.
Guests were treated to delicious snacks in the garden, followed by a captivating seven-course journey, inspired by the kaleidoscope of autumnal colour and transformation that takes place as our vines senesce into dormancy.
Delicate Abrolhos Island Scallops, succulent Fremantle Octopus, and venison from our friends at Margaret River Venison Farm are just a few of local delights heroed on this menu, complemented by native ingredients such as finger lime, slender ice plant and sea purslane that grace our salt-swept coastline. Each dish has been created from the wine up, mirroring flavour, texture, and sense of place – a true culinary immersion.
The FOLIUM experience runs through to mid-May – we encourage guests to book ahead for this very special outgoing menu from Santi.
Stay tuned to the Voyager Instagram for more menu highlights over the coming weeks.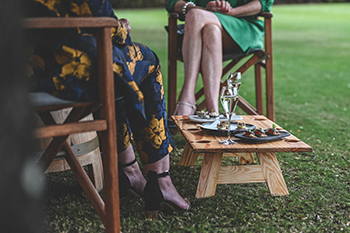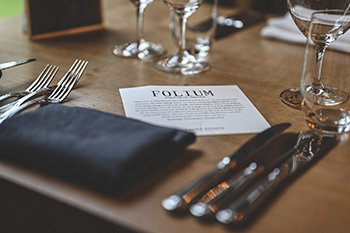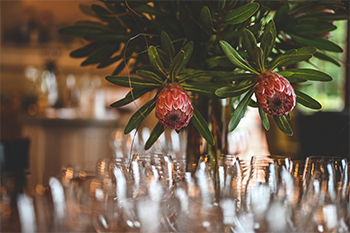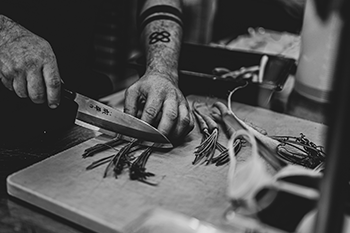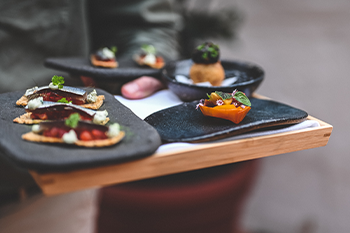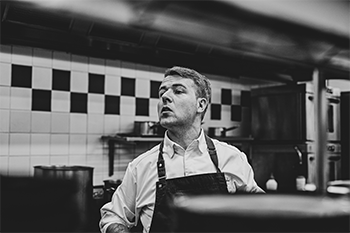 Return to journal >>>
Chardonnay is the heart and soul of our craft at Voyager Estate.
As we wrap-up the harvest of this year's chardonnay grapes, we are excited to unveil two new Certified Organic releases – the Voyager Estate Chardonnay and Broadvale Block 6. Nurtured from the ground up, these wines reflect our aim to shine a light on Margaret River and mark a special moment in our organics journey.
We have been farming sustainably for decades and with every passing year, our team learns more about the unique qualities of each vineyard site. Since beginning the journey to organic certification in 2017, we have shifted our operations in various ways, including using beneficial bugs to combat pests, making our own compost, and evolving our irrigation system to conserve water.
Through this sustainable ethos, our vines have begun to regulate themselves and show increased resilience, as we put more life back into the soil. With reduced yields, the vines are encouraged to work harder and delve deeper, and we are seeing a marked concentration of flavour, minerality and vineyard character in each release. This is complemented by a 'less is more' approach in the winery, allowing the nuances of site, soil, and season to really shine.
The 2020 vintage was truly exceptional, with a near perfect growing season followed by a very warm December. Milder conditions through January ripened the grapes beautifully and saw the team starting harvest in early February. The chardonnay was picked first, with pristine freshness and bright varietal expression – the result is two exceptional wines that tell a unique story of time and place.
The Voyager Estate Chardonnay is our legacy in a glass, crafted from six of our best chardonnay blocks. An initial burst of citrus is complemented by fine, toasty oak and a clean mineral edge – the perfect balance of power and elegance.
Broadvale Block 6 continues to be, hands down, the most exciting parcel of chardonnay on the Estate. Perched atop a gravelly hill that gently slopes to the east, it is planted only with the Dijon 95 clone. This wine has reinforced the need for our team to stand back and let the site do the talking.
"Making Broadvale Block 6 Chardonnay is always exciting. As a juice, it ferments naturally each year due to the lower sugar levels at harvest. It has a flavour profile that builds nicely during ripening and is quite distinctive when ready. Elements of it remind me of Corton wines from Burgundy. This year's release again shows character and drive in abundance" – Travis Lemm, Winemaker.
These two newly Certified Organic releases are now available via our online shop.