Blog
At Voyager Estate, our mission couldn't be simpler – to shine a light on what makes our patch of land in Margaret River so special.
That is why we're proud to be featured in Drive Your Story – a new collection of self-drive trails celebrating the rich tapestry of culinary and cultural experiences our unique coastal home has to offer.
Each curated route has been designed to make the most of your trip to the South West, encouraging you to get a little side-tracked as you find new favourites, slow down for a swim or stop into a hidden gem – returning home with a new story that's all your own.
Begin your journey of discovery with the Margaret River Surf and Source Trail and follow the fresh waters of The Margaret River or Wooditjup Bilya, as they flow through land, forest and out to sea, sharing life and vitality with all who experience it along the way.
This unique drive features pristine beaches and culinary delights from many of our regional friends, but you'll also encounter the majestic surrounds of our Estate, where you'll enjoy a warm welcome and an immersive exploration of our craft and terroir. Drop in and sample our organically farmed wines of place, experience lunch in our award-winning Restaurant, or kick back on the Voyager lawn with a glass of wine and a cheeseboard.
Discover the Drive Your Story trails and plan your next Margaret River adventure here.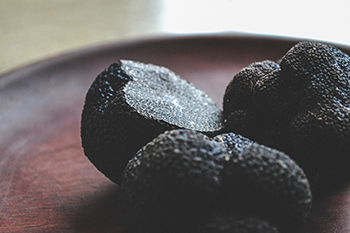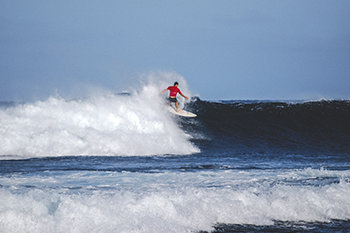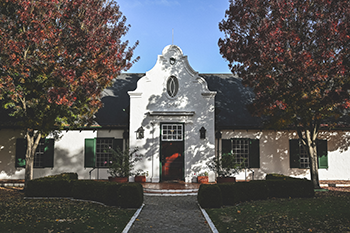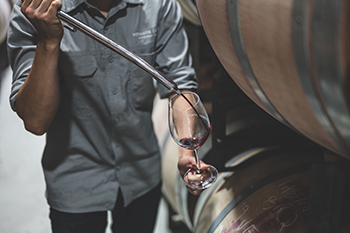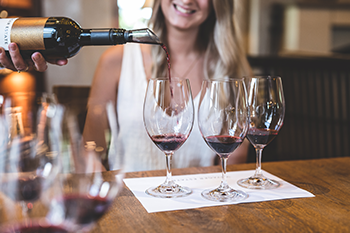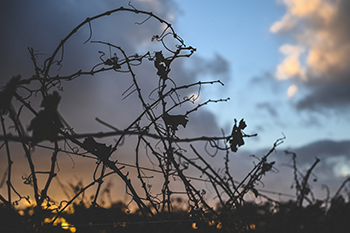 Today marks International Sauvignon Blanc Day – an opportunity to toast a world wine superstar, whose tropical charms have won grape-loving hearts the world over.
Originally from France, the grape is widely touted to have derived its name from the French word "sauvage" meaning "wild", as the vines are reminiscent of wild grapevines.
Mainstream expressions of Sauvignon Blanc are crisp and zesty, greeting the nose with a heady spectrum of exotic fruit and fresh green aromas, and for a while there seemed to be a dip in the love for this style. Its fruit-driven characters became a little predictable for some, and sommeliers across Australia begun to explore other 'serious' white wines to feature on their lists.
More recently however, adventurous winemakers around the world have been experimenting with different techniques – wild fermenting cloudy juice, on skins, in barrel or clay amphorae – to produce new, exciting expressions of the variety. Sauvignon Blanc is an excellent candidate for this sort of creative exploration as no matter what you throw at it, it remains unmistakably varietal in its character. Needless to say, the passion has been reignited.
In the coastal haven of Margaret River, we have evolved a distinctly refreshing version of the famed style known as 'white Bordeaux' – combining Sauvignon Blanc with Semillon to create the locally revered 'SBS' or 'SSB'. With our Mediterranean climate sharing so many similarities with Bordeaux, it's no surprise this style caught on closer to home. These blends are delicious when drunk young, but also have big potential to age, developing flinty, smoky layers over time.
At Voyager Estate, we lovingly refer to the SBS as our 'comeback kid' – as lately, it's coming back into style with a vengeance, reinvigorated by judicious use of oak to add texture and complexity. It's a wine for all seasons – crisp, dry, and refreshing for a summer's day, but with enough weight and texture to stand up to cooler temperatures too. It also pairs supremely well with food, especially our incredible Western Australian seafood.
Our 2021 Sauvignon Blanc Semillon is the first certified organic release of this wine, and for us, embodies a true sense of place.
'This is the first release of a certified organic version of this classic Margaret River blend from Voyager. A lighter-bodied wine showing beautiful fruit purity. A portion of the semillon was fermented in new French oak, adding a textural palate feel and structure. Stacks of crunchy fruit, lifted with a keen crisp, lemon acid' – 93 points, Ray Jordan, The West Australian.
If this style has dropped off your radar, it might be time to dip your toe back in and experience the evolution…
We are thrilled to share that our new release 2020 Girt by Sea Cabernet Merlot has been awarded 94 points by Ray Jordan for prominent Australian drinks guide, Winepilot.com.
A near-perfect growing season, beautifully warm spring weather and one of the hottest Decembers on record all combined to produce a truly exceptional 2020 vintage for Voyager Estate.
'Mighty good wine for this price. In fact, it's better than that. Clearly the vintage has influenced it because it was a cracker in Margaret River. But the mature gravelly influenced vineyards of the Steven's Valley also contribute. Has a bright and lively red berry character supported by fine chalky tannins and a well-managed oak integration. Balanced and poised in its more medium bodied style, which is perfectly suited for drinking over the next few years. Strike up the barbie' – Ray Jordan, 94 points.
Our Girt by Sea range of wines pay homage to our Estate's organically farmed coastal vines and our prevailing maritime influence – the long warm summers with cooling afternoon sea breezes, allowing the grapes to reach optimal ripeness.
The 2020 Girt by Sea Cabernet Merlot is fresh, vibrant and approachable, perfect for a mid-week pour or to pair with Friday night pizza.
This past weekend, as grey skies loomed among bright bursts of sunshine, the last cabernet grape was plucked from the vines…signalling the end of vintage for another year.
With the reds reaching optimum ripeness and ready for picking, our dedicated Vineyard Crew charged to the finish line, gently hand-harvesting and transporting beautiful bunches of V9 Cabernet Sauvignon fruit back to the winery.
Our V9 vineyard, endearingly referred to as 'Old Block,' is often the last hand-pick of the season. These certified organic vines, planted in 1978, continue to produce some of the best fruit on our property, most of which is destined for the ultimate expression of Voyager Estate, our MJW Cabernet Sauvignon.
Just over a week prior, the first cabernet was picked from our younger U4 vines. Planted to Clone 337, the fruit displays fresh, bright, crunchy characters, perfect for our lighter nouveau style wines. This was promptly followed by our U12 'North Block' vineyard, planted to the classic Houghton Clone. This certified organic vineyard forms the backbone of our Voyager Estate Cabernet Sauvignon, our legacy in a glass.
With cabernet at the heart of our craft, we are incredibly excited about this year's yield – the intensity of character, excellent concentration, and balance in the fruit promises to express our special site in Stevens Valley more strongly with each passing season…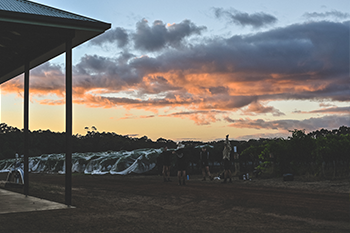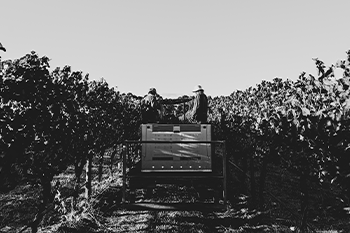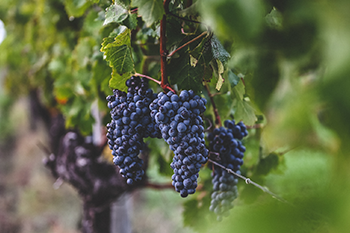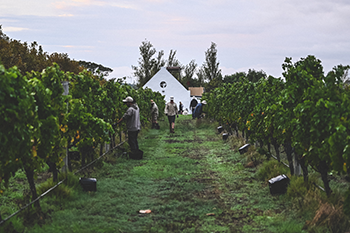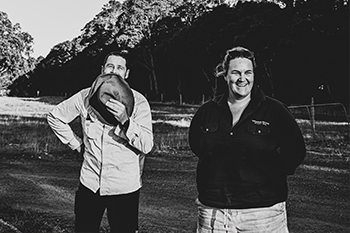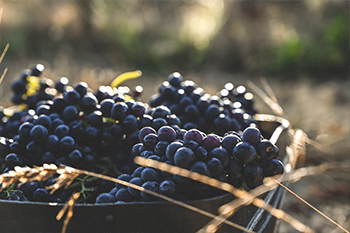 Recently we welcomed guests for the sold-out launch of FOLIUM – a celebration of the vineyard's interconnected lifecycle, and Head Chef Santi's last menu with Voyager Estate before he returns to his homeland of Spain.
As dusk fell over the Estate, so too did a sense of bittersweet anticipation. In his close-to-five years with us, Santi's fervour for sustainable local produce and crafting immersive degustation experiences inspired by our organically farmed wines, has taken our Restaurant to new heights. His contribution to Voyager and the Margaret River culinary scene has been immense.
Guests were treated to delicious snacks in the garden, followed by a captivating seven-course journey, inspired by the kaleidoscope of autumnal colour and transformation that takes place as our vines senesce into dormancy.
Delicate Abrolhos Island Scallops, succulent Fremantle Octopus, and venison from our friends at Margaret River Venison Farm are just a few of local delights heroed on this menu, complemented by native ingredients such as finger lime, slender ice plant and sea purslane that grace our salt-swept coastline. Each dish has been created from the wine up, mirroring flavour, texture, and sense of place – a true culinary immersion.
The FOLIUM experience runs through to mid-May – we encourage guests to book ahead for this very special outgoing menu from Santi.
Stay tuned to the Voyager Instagram for more menu highlights over the coming weeks.
Chardonnay is the heart and soul of our craft at Voyager Estate.
As we wrap-up the harvest of this year's chardonnay grapes, we are excited to unveil two new Certified Organic releases – the Voyager Estate Chardonnay and Broadvale Block 6. Nurtured from the ground up, these wines reflect our aim to shine a light on Margaret River and mark a special moment in our organics journey.
We have been farming sustainably for decades and with every passing year, our team learns more about the unique qualities of each vineyard site. Since beginning the journey to organic certification in 2017, we have shifted our operations in various ways, including using beneficial bugs to combat pests, making our own compost, and evolving our irrigation system to conserve water.
Through this sustainable ethos, our vines have begun to regulate themselves and show increased resilience, as we put more life back into the soil. With reduced yields, the vines are encouraged to work harder and delve deeper, and we are seeing a marked concentration of flavour, minerality and vineyard character in each release. This is complemented by a 'less is more' approach in the winery, allowing the nuances of site, soil, and season to really shine.
The 2020 vintage was truly exceptional, with a near perfect growing season followed by a very warm December. Milder conditions through January ripened the grapes beautifully and saw the team starting harvest in early February. The chardonnay was picked first, with pristine freshness and bright varietal expression – the result is two exceptional wines that tell a unique story of time and place.
The Voyager Estate Chardonnay is our legacy in a glass, crafted from six of our best chardonnay blocks. An initial burst of citrus is complemented by fine, toasty oak and a clean mineral edge – the perfect balance of power and elegance.
Broadvale Block 6 continues to be, hands down, the most exciting parcel of chardonnay on the Estate. Perched atop a gravelly hill that gently slopes to the east, it is planted only with the Dijon 95 clone. This wine has reinforced the need for our team to stand back and let the site do the talking.
"Making Broadvale Block 6 Chardonnay is always exciting. As a juice, it ferments naturally each year due to the lower sugar levels at harvest. It has a flavour profile that builds nicely during ripening and is quite distinctive when ready. Elements of it remind me of Corton wines from Burgundy. This year's release again shows character and drive in abundance" – Travis Lemm, Winemaker.
These two newly Certified Organic releases are now available via our online shop.
On International Women's Day, we are celebrating all the women we're fortunate enough to call colleagues, customers, and friends.
A special salute to the exceptional women at Voyager Estate, who are dedicated to creating one-of-a-kind wine experiences for our guests each and every day – including our award-winning Sommelier, Claire Tonon.
Tell us about your wine journey – when did you know you wanted to become a sommelier and how did you get there?
Like many of the best things in life, I "fell into" the world of wine. I returned to Australia from Italy as a young university graduate and didn't really have a precise career direction, so I applied for a job as a secretary. Within a few short months I was hosting wine tastings for Wise Wines! A few years later I returned to Italy, where historic producer, Bisol, sent me off to complete the Italian Sommelier course. As they say, the rest is history…
You've spent plenty of time in Italy – how would you describe the differences in our cultures' approach to wine?
There are always exceptions, but I find the Italian consumer predominantly knows and drinks wine from regions closer to home. I find Australia's wine culture to be more inclusive and explorative – people love the opportunity to taste different varieties and wines from a broader array of regions, both from around Australia and the world.
What are you most proud of in your wine career?
Receiving WA Good Food Guide Regional Sommelier of the Year in 2021 confirmed that there's a growing understanding of the role of the Sommelier being so much more than creating a long list of wines. It recognises the importance of a sensitive approach to wine and food pairing, of impeccable service, and of sharing knowledge without pretention. That's bigger than just being about me, and would have to be one of my proudest moments.
Are there any women whom you admire, or have influenced you in your wine career?
Jancis Robinson MW OBE is my wine idol…the first woman to become an MW from outside the wine trade in 1986. I doubt there's a single topic even remotely related to wine she couldn't explain in exacting detail!
Our Technical Officer, Alex Miller, advises the Production Team on all manner of issue; yields, pest and disease management, sustainability, our organic conversion and so much more, yet she always manages to have an encouraging word for all. Truly inspiring!
What challenges, if any, do you see for women in the wine business?
While I think the days of the wine industry as a "boys club" are numbered, I do feel that women in this industry still need to work harder and longer to be recognised in their field compared to their male counterparts. The limited number of women in top management positions throughout the wine business is testament to this challenge.
How are you supporting and empowering the team at Voyager Estate?
A big part of my job is staff training. I hope, by providing every person – no matter how they identify – with respect and equal access to education opportunities, I am supporting each individual in our team to find their own strengths and way of expressing themselves within the wine business.
What advice would you give to young women who want to pursue a career in wine?
To succeed in the wine business, you will need passion, tenacity, and drive. Study hard, work hard and enjoy the ride (and a glass or two)!
We recently welcomed Australian musician and master of all things vinous, Tom Kline, to the Voyager Team as our new Market Development Manager.
Growing up in the King Valley wine region in northeast Victoria with a wine educator father and a well-stocked cellar, Tom caught the wine bug early. In addition to being our east coast Brand Ambassador, Tom is a WSET educator, offers self-written wine courses, and is a contributor to Gourmet Traveller WINE. He is also a passionate musician and talented singer songwriter.
Has there been a particularly memorable moment in your wine journey to date?
Collections of moments while spending time in regions like Piemonte in Italy, and Burgundy in France are hard to go past. Otherwise, getting to have a glass of wine and a chat with Jancis Robinson at the winery a couple of years back was pretty surreal!
What do you see as the biggest wine trend in Australia right now?
Chilled reds have a huge vibe at the moment. This is more readily an option with the increased array of more delicately structured and fruit driven wines in the market. Outside of that I think it's simply a move to more finessed and brighter wine styles both from a producer and consumer standpoint. Wines that are more about intensity than weight.
Is there a particular 'genesis' wine that led you down the path to a career in wine?
I grew up around wine, so I think it was more of an osmosis situation. I'd love to regale you with a romantic story of that "one bottle" that forged the path, but it was my father and his love of wine and wine culture that led me to the industry.
What is your favourite wine in the Voyager Estate portfolio and why?
I'm a big fan of the Estate Chardonnay. It consistently shows such site transparency and balances power and elegance beautifully year on year.
As a passionate musician drawn to wine, do you see any synergies between the two?
Yes, there's creativity and sensory experience around both, but I think it's about being put in the moment. As a songwriter, there's no greater feeling for me than when an inspired idea takes hold. Hours pass like minutes, and I think the appeal is the escapism from everyday life. I get that same reward from wine – when I'm smelling, tasting, or drinking wine I'm completely in that moment and freed from thinking of any of life's stresses. I love that.
What are you listening to when you're out on the road?
I love listening to podcasts when I'm on the road. You'd think I'd be devouring music given I'm a musician, but I enjoy learning while I drive around (usually about wine!).
A magnificent sunrise casts a warm glow over the vineyard, as the crew limber up before the first hand-pick of Vintage 2022.
There is a feeling of anticipation in the air, as everyone gathers in Broadvale Block 11 – the first white grapes to be plucked in the cool of the morning. Harvest has officially begun.
It's always tricky to know what the season will bring (if only we had a crystal ball!) but here are a few early thoughts from our Winemaker, Travis Lemm…
"The warmth is continuing during the day, with cool nights helping to hold on to that bright acidity. The birds are busy feeding on the Marri blossom and have disappeared, leaving our vines in peace…for now!
Shortly we will finish harvesting the chardonnay. All the fruit is looking amazingly pristine. We are especially excited about the intense grapefruit and lemon zest flavours coming off those core Voyager Estate blocks.
The early tempranillo flavours for this year's rosé are also looking fantastic. We're also monitoring a small section of semillon for a potential new project, as the quality and yield is too good to ignore...watch this space."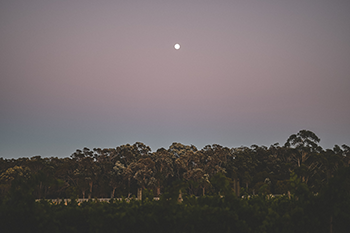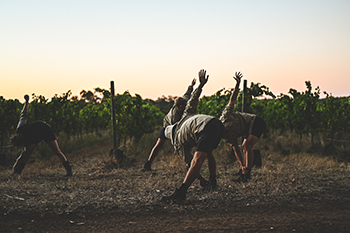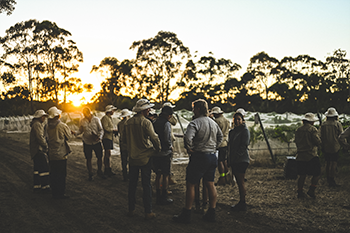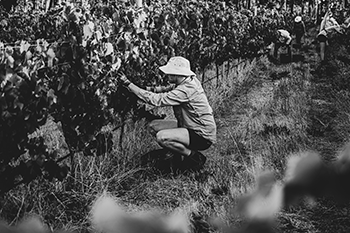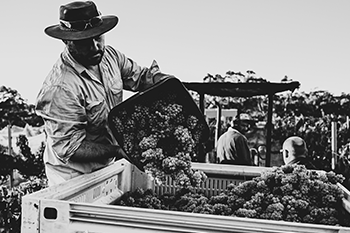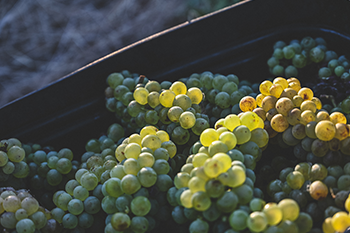 The summer harvest season is upon us, bringing with it a wonderful energy, colour, and transformation in the vineyard.
Head Chef Santi Fernandez and Sommelier Claire Tonon have weaved their magic to create a culinary journey that pays homage to this exciting time at the Estate.
Cape gooseberries, Western rock lobster, figs, zucchinis, and Society Garlic from the garden are just a few of the pristine local ingredients featured alongside a selection of Voyager Estate's current releases.
"The height of summer is our busiest and most exciting time of the year – our organically farmed grapes swell, increase in sugar and develop their distinct character. The anticipation is high, as is the sun, with cooling afternoon sea breezes a reminder of our coastal influence. And then, it's time for the magic – Harvest, as the team gears up to transform beautifully ripe grapes in the winery into wine. Using fresh fruits, summer berries, and pristine produce from across our region, our BACCA Menu pays homage to this vibrant time across the Estate. Our sustainable food philosophy is front of mind, heroing food of place and the wines that inspired these dishes" – Santi Fernandez.